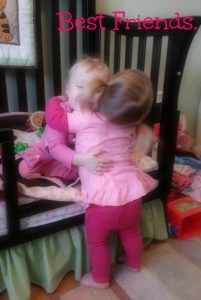 I just had three days off and I feel like I need a break. My weekend was busier than my week and I miss my kid! I feel like I hardly saw her.
Saturday was jam-packed of running around and getting errands done knowing I had all day Sunday and Monday to hang out and do fun family stuff. Our daughter did have a little play date Saturday afternoon which was super fun to watch her play with her best friend (as deemed by mom). Saturday night was spent all night organizing and doing taxes. That was fun, not…Whole other post on how being unprepared for taxes will bite you in the ass. Lesson learned. Hubby had soccer Saturday night and the rest of the weekend went to shit.
He normally plays keeper but played out this game. Long story short he planted his right leg into the turf to pivot left (turning around) when someone smoked him from behind. He moved, his leg, still connected with turf, did not. He was in immediate pain.
He came home and I knew it was bad. The words 'hospital' left his mouth and I knew it had to be bad for him to even admit he may need an advil. It was late Saturday night and kiddo was in bed, we decided to see how it was in the morning. He "woke up" (ie- didn't sleep at all) and we started making childcare plans for what may be a long wait in the ER.
We made it to the ER at 1pm and were on our way home by 4:30 pm with the diagnosis that he tore the outside lateral ligaments in his right knee/leg. That the muscles in his leg were currently too tight to get a full scope of damage done but that he did not damage his meniscus which was a relief. Basically he can't play sports for a few weeks and is pretty immobile for about a week then physio commencing in a week or two. He's young and healthy so should heal ok.
I am so very thankful that we were able to walk into a hospital, get a new wheelchair for him, go through triage and be moved to a waiting area where we saw doctor, full exam, discharged and multiple followup appointments coming next week at no cost to me. We will do physio at a private clinic but have insurance to cover that (free through our health system but takes a while to get in). We did however need to rent crutches and get some meds for him which is where the ER fund came into play.
Though it was only $50 for the crutches and meds ($20 of which we get back if we return the crutches) I didn't want to have to pull it from our weekly money. $50 is about what we spend per week on gas alone. I am so glad we have a small stash of money I can pull from. It's only $50 but even if it was $500 we would have been ok. My husbands first thought was "oh man, I wonder how much crutches are going to be" I knew they were super cheap but I reminded him we didn't need to worry anyway because we have the money already set aside. He was relieved and I was reminded why I like having our ER fund in a separate bank, so we forget about it and only use it when we really need to.
I am so glad I listened to everyone's advice about why having an ER fund, especially while in debt, is important. I can concentrate on making sure hubby is comfortable without having to worry about anything he may need (I sense a knee brace in his future…)
How was your weekend?? Why is it so stinkin' cute when kids hug and kiss?
Enjoy Plunged in Debt?
Subscribe to get our latest content by email.