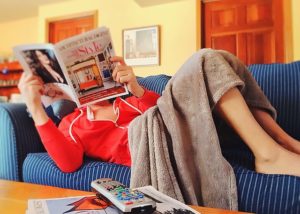 The economy rises.  The economy falls. The world is ever changing, but one thing is constant. Debt is ever present and people work harder; longer.  We celebrate successes and we support through losses, but to be human is to live beyond our means – that is part of what makes life so pleasurable. In this whirlwind of life, what is missing the most?  Time off…
Countries of North America have the least required minimum mandatory paid vacations, with the United States leading the pack requiring zero days.  Mexico is right behind with 1-5 required and Canada with 6-10.  Almost the entire rest of the world has at least twice that.  So, how do you take a vacation in this workaholic world without breaking the bank or losing your job?  Plan a perfect staycation.
Staycation was popularized during the financial crisis of 2007-2010 when vacations were simply too expensive.  Although the economy has improved, many couples are simply too far in debt, or work too much to take the time or spend the money. With some planning and some good friends, you can have an amazing vacation right at home.
Have the house cleaned and set up your home like a great B&B.  Local house cleaners won't break the bank, and some might even cut you a great deal to return for an hour each day of the weekend to tidy up.  Even if you can't afford a $5000 trip to the Bahamas, you can put aside a few hundred for a special weekend. Assign Saturday to her and Sunday to him (or vice versa) and set a budget.
Leave work a little early on Friday – come on, everyone does it! Bring the cars home and Uber it for the evening. Take advantage of the full Happy Hour at the coolest local place you've never been to. Dinner and drink specials can be up to half off if you do a little research. When Happy Hour is over, so are you!
Have friends come over before you get home and set up for an awesome game night at home. Play for chips but have everyone create a cool service coupon winners can use at the end, such as "I will clean your house" or "I will pay for the next meal out." Support each other in creating more staycation weekends for everyone.
On Saturday, be a tourist in your own town. Most people never visit the famous or historic attractions of their town unless people come to visit. Download a local activities app and find out what live and free events are going on.  Even better, plan the weekend around a festival or sporting event you both love.  Rent bikes, paddle boats or go on a carriage ride, depending on what your city offers. Pack a gourmet picnic and bottle of wine to save on restaurant costs and plan a place with a view for sunset.
For Sunday, make it spa day at home. While high end spas can get outrageously expensive, if you contact the local Massage Schools, chances are you can get a couple cheaper outcalls at home.  Follow up with a hot bath together or a soak in the pool or hot tub, if you have one. Make your big splurge of the weekend a personal chef who will come in and make a delicious early feast right in your own home – best of all, plenty of leftovers. Have him leave you dessert and rent a movie you've never had time to go out and see.
For Monday, plan to come in a little late, sleep in a bit and go out for breakfast before facing your work day. Hell, have a mimosa (unless your occupation is saving lives!).  Don't forget to get each other a special little gift to celebrate the memories you make on your vacation weekend at home.
Enjoy Plunged in Debt?
Subscribe to get our latest content by email.