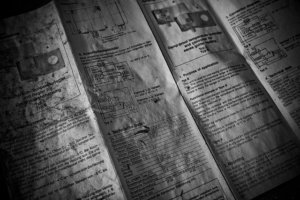 So many of us buy a household item or even something as large as a car and either just pay a cursory glance at the instructions and owner's manual or don't read it all.
It's a fair point that reading a set of instructions might not be the most exciting activity you will do that day but there are actually a number of very good reasons why it would be a good idea to get into the habit of getting to know your new item more closely.
Here is a look at why you should always read the label and instructions that come with the product you have just bought. Including some important setup and safety issues that you need to know, plus other tips to help you get the most out of your new purchase.
How much do you know about your car?
It is amazing to discover how many car owners can't even tell you what some of the symbols or buttons the dashboard do, and they wouldn't have a clue how to properly check the engine fluids.
You can always download service repair manuals for your car if it is an older model and you don't have the original documents anymore, but if you have just taken delivery of a new car it really does make a lot of sense to take the time to read the owner's manual.
There is bound to be useful and potentially vital information contained in the manual that you need to be aware of as well as figuring out what all the hi-tech gadgets you have just paid for actually do.
If you see a blinking yellow light flashing on the dashboard do you know how serious the message is and should you stop the car immediately or check later?
If you want to know the answers to all the questions and more about your car, it is all in the owner's manual.
Setting your new device up correctly
The excitement of opening the box to reveal your new device, such as a smartphone or electrical gadget for the kitchen, will overshadow the need to read the instruction manual and many of us are normally tempted to plug it in and see what happens from there.
The big problem with taking that approach and only referring to the instruction manual when you can't figure something out is that you increase the chance that you don't set up the device properly, which can sometimes be a one-time deal.
A lot of manufacturers have recognized our reluctance to trawl through pages and pages of detailed instructions and you can often find that many devices now come with a quick setup guide that helps you to get started properly but with the minimum of fuss.
You should commit to at least reading these basic instructions on how to initialize your device correctly as there are some instances where you might invalidate the warranty by doing something that you would not have done if you had read the manual before you switched the power on.
Powering up your device
Another good reason why you need to read the operating instructions is to ensure that you charge your phone in the right way.
The manual will tell you the amps you need to fully charge your phone properly and gives you relevant advice on the best way to charge your phone safely.
A lot of devices such as smartphones tend to arrive with a minimal amount of power in them so the first thing you will often need to do is plug it in and wait for it to charge fully before you can use it.
That gives you the perfect opportunity to sit down with a cup of coffee and read the instruction manual, so you are ready to get the most out of your purchase once it's ready to use.
Safety advice
You should never underestimate the importance of reading the safety advice being given to you in the instruction and owner's manual.
Not only do you want to know what each button does and the various functions available with your device but you also need to know what safety precautions you should be taking to keep you and the product away from harm.
Manufacturers normally go out of their way to try and help consumers enjoy their products and stay safe, so make the most of the information they are providing and take the time to read the owner's manual.
It might even make more interesting reading than you first thought.
Henry Sykes is a money researcher and consultant for business and personal matters. Constantly seeking new ways to save, he loves to share what he discovers by posting on many money and lifestyle websites today.
More articles from Plunged in Debt:
Do you know which stores owe you Money?
Tai Lopez's Net Worth
What is Jimmy Tatro's Net Worth?
Enjoy Plunged in Debt?
Subscribe to get our latest content by email.