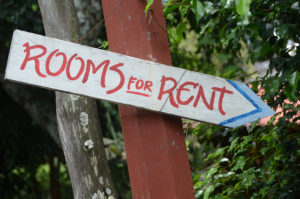 The rental market is increasingly competitive, with more and more choosing to rent instead of buy in today's housing sector. If you're looking for a rental, you've no doubt been struggling with the frustrating challenge of getting your name on the lease of any apartment, let alone the home of your dreams. Navigating the world of rentals is no easy task, and with nefarious schemers coming through the woodwork on a daily basis, it's easy to fall into the trap of rental scams. If you're looking for a new place and want to ensure you don't get scammed by opportunistic con artists, keep these safety tips in your arsenal.
Understand What's Reasonable
Competition drives up price, but greedy individuals may try to pull the wool over your eyes and charge a ridiculous rate. Do your research to find out the average rent rate in the given area. There are many ways to determine this, and a multitude of sites that can help you out. Try Rentometer.com to get a feel for what you can expect to pay before you even begin touring homes. This will narrow down your search on rental listings, and hopefully filter out the rates that are too high before you start. It's also wise to be on alert for rates that seem too low—if it seems too good to be true, it probably is.
An Overly Eager Landlord
Of course you want your prospective landlord to like you, but if it's almost too easy to rent the apartment from them, that's a definite cause for concern. If they don't ask for referrals, employment verification, or any other sort of tenant screening, it's definitely cause for suspicion.
There's No Lease
If the landlord is ready to sign an apartment over to you without a lease, be wary. The lack of a lease might indicate the lack of a property, and a scammer's attempt to sell you on an apartment they don't actually own. Even if the rental is legitimate, while law doesn't require a lease, should anything unsavory happen during your tenancy, you'll want the written and agreed upon provisions on your side for legal purposes.
Never Wire Money
You might consider this common sense, but desperation and the need for a home can drive people to do anything to secure the right rental. If a landlord ever asks you to wire money, run the other direction. This is almost always a scam, and can be approached in different ways. Whether they're asking for a deposit, an application fee, or a full month's rent, wiring money is akin to throwing cash out of your car window on the freeway—once you let go of it, it's gone and there's no chance you'll get it back.
Don't Give Out Personal Information
It's not always money that scammers are after. With identity theft rates on the rise, it's essential to protect any sensitive information. It's common for landlords to ask for your social security number in order to run a credit check, but be wary of handing your SSN over to anyone. Ask them to screen you with a legitimate screening company. If they balk at the suggestion, that's a red flag. Ask them to run a credit check by Transunion SmartMove; with a certified service like this, they can get all the essential information they need, like your credit score, eviction history, and criminal record, and you can rest assured that your information is kept safe and secure.
Renting Sight Unseen
If you're asked to send over a rent check without having first met the landlord or entered the apartment, be on red alert. Don't rely on photos, and always try to visit the apartment in question before paying for anything. If you're moving to a new city that's too far for you to visit in advance, ask a nearby friend to check out the place for you, use a property management company to secure a place for you, or wait until you make the move out there to find a permanent place and rent a hotel room for a few days or weeks while you go through the process. The temporary higher cost of a hotel room is much less expensive than a scam would be.
If you're in the market for an apartment or house rental, make sure you keep an eye out for rental scams and keep yourself protected by utilizing these tips.
Enjoy Plunged in Debt?
Subscribe to get our latest content by email.