A lot of people think celebrities are rich and have no concern for money. The truth is, though, there have been more than a few celebs who have gone completely broke. Former heavyweight boxing champion Mike Tyson filed for bankruptcy in 2003 with debts around $23 million. On the other side of the fence, there are multiple celebs who have been quite savvy with their financial earnings. From Ashton Kutcher to Michelle Williams, these stars understand the importance of saving and investing money.
Ashton Kutcher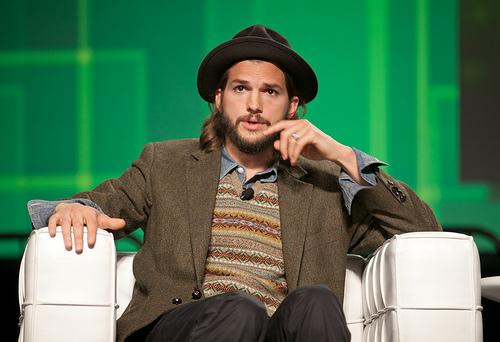 Image via Flickr by jdlasica
Ashton Kutcher is all about being one of America's most beloved actors, but he's also proactive about making money. In fact, a lot of people refer to him as an astute businessman. One of his first wise investment choices was when he invested in Skype. Two years later, his investment tripled thanks to Microsoft's purchase of the telecommunications application software.
Kutcher has since gone on to create A-Grade Investments, a renowned venture fund that has investments in Airbnb, Spotify, and many other successful startups. To top it off, he's also the co-founder of Katalyst, a business that specializes in creating original content for a variety of platforms, including digital media and television.
Michelle Williams
Williams grew up around trading. Even after she found success in the entertainment industry, she went on to win a futures trading competition. Guess how many people have been able to beat the 1000% return she secured during the competition? No one. William's father was a trader himself. He homeschooled her and frequently educated her on options trading basics and how various influences impact the bond market. Although she no longer has a close relationship with her father, she still continues to be financially savvy.
Ellen DeGeneres
There's been a slew of celebs who have tried to find success in the real estate industry without success. Ellen DeGeneres clearly isn't one of them. She has become known for her ability to flip houses in Hollywood. The neatest aspect of her success is that she doesn't purchase the homes with the intent of selling them. Throughout her career, though, she's managed to sell 12 properties. One of her houses made her a profit of a cool $15 million.
George Clooney
George Clooney is very modest about his success in the liquor industry. He created his branded liquor under the assumption it was going to be for him and his friends. He quickly noticed, however, that everyone loved it and wanted more. Diageo ended up purchasing his liquor for $1 billion. That's quite a profit on a beverage that was never meant to be a commercial product. It's an amazing achievement in an industry where celeb after celeb has tried creating their own branded liquors only to find no success.
You don't have to be rich to save money. You can have all the money in the world, but if you don't spend and save it right, you'll end up with nothing. The smartest move you can make is to invest your money and watch it grow.