It is generally believed that retirement savings of about 75% of your final salary will allow you to retire comfortably. This estimate accounts for the adjustments people make as they get older, like increased medical costs and lower housing costs. But is this enough to live comfortably during retirement?
The benchmark often used for retirement savings is 15%, which has been derived from the government's previous maximum tax break. Many investors think that placing 15% of their salaries into retirement funds each month results in a comfortable retirement income.
15% may actually not be enough.
On the 1st of March 2016 the South African government set a new maximum tax break. This provides a better benchmark than the previous 15%. However, some investors may still feel tentative as to how much of their salary should be invested per month.
Column one in Table 1 shows the percentage of your current salary that you will need to invest at different ages, when starting your retirement savings for the first time. This data assumes you will be comfortable living off 75% of your final salary when you retire. The data shows that, even at 25 years old, investing 15% of your taxable income will not be enough to guarantee a comfortable and sustainable retirement. The much safer option is to invest a minimum of 17%.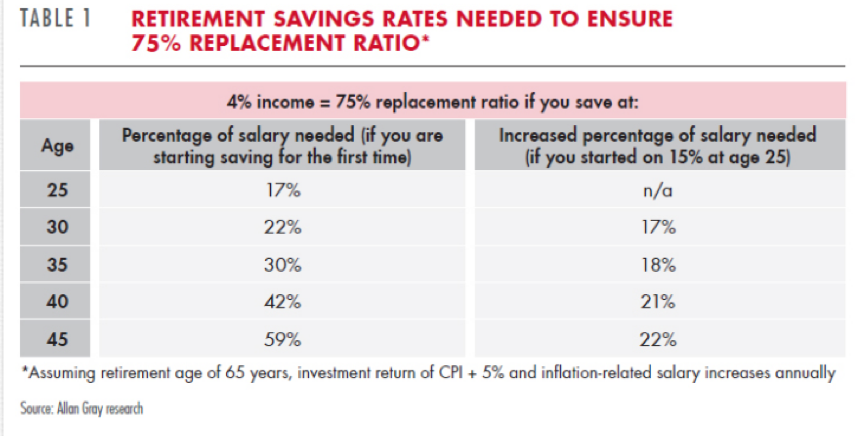 You may have started your retirement savings early and based your investment contributions on the 15% benchmark. In that case Column two, in Table 1, shows you the percentage by which you will need to increase your investment contribution by, in order to catch up. Your personal needs, however, remain the most important aspect when it comes to planning for your retirement.
Account for your personal circumstances.
The data from Table 1 is based on averages. It assumes an annual inflationary adjusted salary increase. This method won't work for you if your lifestyle improves at a rate greater than the general inflationary rate.  A spike in your salary might afford you major lifestyle improvements, but could ultimately set back your retirement plans. Try ramping up your savings contributions, instead of investing the same percentage of your new salary.
Some tips to maximize your retirement savings.
Always prioritize your retirement savings when receiving additional income. Either split each income boost or alternate between improving your lifestyle and increasing your savings.
Delay your retirement to allow your investment to grow. This means through contributions and return on your investments.
Prioritize your needs during retirement by rethinking your lifestyle choices. Decrease your income needs during this phase of your life.
Supplement your retirement investments by saving in a unit trust or tax-free investment account. This gives you easy access to your funds and more flexibility.
Consult an independent financial advisor if you are uncertain about how much you should be saving.