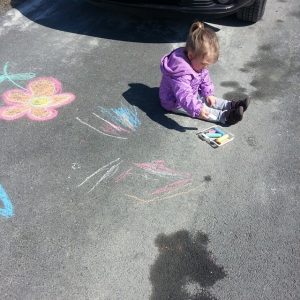 I somehow managed to let the whole first week of May slip past me before even thinking about doing this post. Where is time going?!
I am so glad the weather is much better than last time I reported. It's actually been very beautiful and making up for the terrible three months of icy hell we endured on the east coast. The only thing that could make everything better would be if my clothesline wasn't broken and I could start hanging the clothes outside again, hoping to get it fixed this weekend!
Speaking of this weekend it's Mother's day which is always a nice time around here. Even before I was a momma I still enjoyed it but look forward to it even more now. All the men+ able children make a yummy brunch for the moms at Mike's grandfathers house, including some of my favorite things- eggs benny and mimosas, I can't wait!
April was a decent month for debt repayment but nothing spectacular. We managed to put $2,074 towards our debt goal. We're still on plan for paying off our next loan by October, per our plan. I was really hoping to have it done earlier- August or September- but realistically it's not going to happen, at the end of the day what's a month or two difference I guess. The loan was originally sitting at $23,698.70 (December of 2012) and is now at $6,165…and will be $0 in five short months 🙂
We got some decent news in April which will effect our budget too, Mike is finally going to be able to expense his cell phone bill every month. He uses his phone a lot for work- traveling to job sites all over the province means his bill is usually pretty outrageous no matter how many plan add-on's and rate deals we get, the bill can't get under $100 per month, usually closer to $125+ so the added savings is so appreciated especially since his job is the reason it's so high!
How did everyone else do in April? Any special plans for the Momma's in your life?
Enjoy Plunged in Debt?
Subscribe to get our latest content by email.