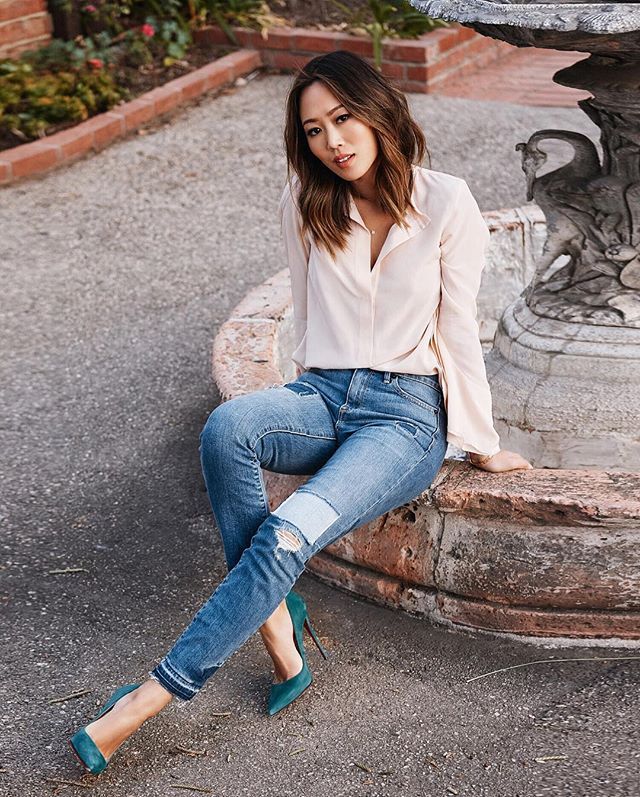 Each year Forbes' 30 Under 30 List comes out and it seems each year more vloggers and bloggers appear on that list. Last year fashion blogger Aimee Song was featured. Song started a fashion blog called "Song of Style" nine years ago and it has turned into a website that gets millions of page views.
So, how did Song go from blogging about her favorite fashion styles to being listed amongst other influential people in Forbes? More specifically, how has all that success impacted Aimee Song's net worth?
Who is Aimee Song?
There isn't a ton of information about Song's upbringing on the web, unlike many other celebrities. Most of what you see where Song is concerned is her brand, her social media and her blog. Song has worked hard to keep up an image and, according to Fashionista Magazine, is a sought-after interior designer and professional blogger. She's also featured on YouTube, Instagram and many of the other larger social media sites.
Aimee Song's Career
Song's career really started to take off after she graduated from high school and began classes at Academy of Art University in 2008. That is when Song decided to start her very own fashion blog, which she still runs today.
The blog, "Song of Style," presents fashion lovers everywhere with some laid-back but fashionable choices. Since launching in 2008 "Song of Style" has been getting 4 million monthly page views. You can also check out her YouTube channel through the site as well, which shows things like "A Day in the Life of Aimee Song" (seen below).
So, Song is designing and selling clothing, blogging, vlogging, manning social media account and doing interior design projects. That has had to pay off! So, what is Aimee Song's net worth?
---
If you're interested in Aimee Song's Net Worth you may also enjoy:
'Gold Rush' Star Tony Beets' Net Worth is Huge!
Jaclyn Hill's Net Worth
Liza Koshy's Net Worth
---
Aimee Song's Net Worth
Bloggers similar to Song are known to make $1 million or more each year, depending on what other projects they have going on. Currently, Aimee Song's net worth is estimated to be about $450K, which seems fairly low with someone with so much web presence. The cash isn't likely coming from where you think it would either.
Yes, Song has her own clothing that she sells on her site. She also has a YouTube channel (where many people make money online). Where the bulk of her cash stems from, however, is page views on her blog and advertising on Instagram.
Not unlike many other fashion bloggers, Song gets paid to wear or promote certain brands on her page. In fact, with a reach as large as hers, she could charge up to $150K for a post. Not only was she listed among Forbes' 30 Under 30 but she has also been listed among some of the richest Instagrammers and bloggers out there. It is estimated that she pulls in millions each year (though her net worth doesn't reflect that).
Her income online is combined with her income from her interior design career as well. Don't forget Song has an interior design degree and is building two careers side by side. Song says that she feels having a job outside of blogging makes her feel she's more relatable to her audience.
Song's not showing any sign of slowing down anytime soon. She continues to blog, vlog, post photos, design and makes money every day.
Have someone you'd like us to cover? Let us know. 
Enjoy Plunged in Debt?
Subscribe to get our latest content by email.