Little known fact about me. As laid back as I am, I love beauty products (after all I admitted to having to give up my fancy salon cuts!). I love trying new products and experimenting, even if it's just for fun or for one evening, I love playing with hair and makeup items. I experimented a lot more as a younger adult, but as a full grownup now (<<insert sobbing), I tend to stick with a few tried and true favorites.
Though I am often tempted by new products, I have learned in my 15+ years of doing hair and makeup that sticking to a few favorites usually works well. Also, it can get uber expensive to play dress up so the current budget doesn't exactly allow it. When I see something I like I will often attempt to recreate it as cheap as possible, especially if it's something I'm unsure I will like. Then, once I'm sure I like it I will sometimes invest in better quality.
Drugstores aren't what they used to be. Hell, some drugstores are arguably small department stores. The brands, and quality of brands, they carry has changed drastically since I started buying beauty supplies some 15 years ago. Here are a few of my tried and true favorites:
Cetaphil Cleanser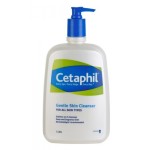 Cost: Large bottle $10.99
This was something my mom used to use daily. I don't use it as a total facial cleanser, rather something to remove my makeup- all of it, mascara and all. It is non irritating and works great. Though I currently only use it as a makeup remover (following with a cleanser), during my pregnancy I used it exclusively as I did suffer from pregnancy related rosacea and it was the only thing that didn't burn my skin.
Essie Gel Setter Top Coat Nailpolish
Cost: $8.99
This is a new product and I love it. I really love manicures and pedicures. Though I often skip mani's given how hard I am on my hands at work, when the opportunity arises I love them. There's just one thing, I'm a total cheapskate and can't justify paying someone to paint my hands and feet when I'm more than capable. I love the look of gel nails but can't come to terms with the cost involved. I decided to spend the $8.99 and try this for a DIY version and was pretty impressed. It really does give you a super hard and high gloss finish and leave your nails flawless for about seven days (much longer on toes). Given I expect this bottle to last a few years I'm happy with my purchase and think it's a great compromise.
Blending Sponge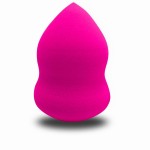 Cost: ?? $10
I don't have a specific brand that I like I've purchased a few and been happy with all of them though I do prefer the tear drop shape ones. I've tried using brushes to apply liquid makeup and I don't like it as much as a sponge. I'm not an overly fussy person (ie I don't need special blending brushes for highlighting etc) and really like the idea of dampening the sponge (tip: quality makeup sponges should be saturated until almost twice original size then water squeezed out leaving slightly damp in state) applying a little foundation and be ready to move on. Two minutes, max.
Maybelline SuperStay 24 Hr Foundation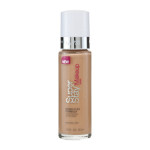 Cost: $9.99
I don't wear a lot of makeup day-to-day but I do like a little foundation (using with my favorite sponge!). Given that I wear a mask all day at work covering most of my face, most of the foundations that I've used (high quality and cheap) eventually wear off from a combination of the mask rubbing on my face and humidity under the mask. Even when used with a setting spray (another experiment), they usually don't last. I tried this foundation for the first time a few months ago (on sale for $7.99) and have been very happy with it. It does transfer a little (to the inside of my mask) but nothing like others I've used. For less than $10 it is one of the best I've used.
Got 2b Powder'ful Volumizing Styling Powder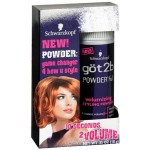 Cost: $8.99
I love this stuff. I have a lot of hair but it's very fine. Especially in the summer humidity my hair always goes flat. Humidity+heavy hair+liquid based hair products= eventual flat hair every single day. Not with this stuff! You don't need a lot for it to be effective. It sort of makes your hair feel a little dirty(??- I can't think of another word) but it works really well. (note: The box suggests putting on hands then rubbing into hair, I recommend lifting small sections of your hair and sprinkling a tiny bit instead, way easier. Reminder you only need a little bit!)
So there you have a it a few of my cheap favorites! I especially love getting them on sale- like when the hair stuff was on for $3.99 with a $2.00 coupon on the box! Makes it that much easier to enjoy!
Do you have any favorite drugstore beauty products?
Enjoy Plunged in Debt?
Subscribe to get our latest content by email.