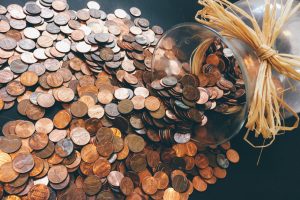 You've mastered the art of savings when you have at least 6 months income available. This means that you can handle any emergency that stops you from working and interrupts your cash flow.
However, there comes a point when saving money by stockpiling it into your bank account will not serve you well. This is because inflation erodes the value of your money. After some time you may have more money, but you will be able to buy less with it. Inflation accelerates the half-life of money.
Saving While Spending
Let's assume you've become very good at managing your money. You've either eliminated your debt or you have a strategy to take care of it. You've saved enough for any emergency. You've got a retirement plan in motion. And your business and investments are slowly appreciating. Now what do you do? How about buying some of the things you've always wanted—big ticket purchases. After all, the purpose of money is not to just accumulate it, channel it into useful accounts, and stockpile it. It can also be enjoyed.
7 Rules for Frugal Buyers
So how do you buy high ticket items without feeling guilty about it? You've spent so long developing a frugal mentality that it might not seem difficult to actually spend it on the things you really want.
The trick is to learn how to save money on the big purchases you plan to make. We're talking about things like a home, cars, boats, college, and so on.
Here are 7 ground rules for frugal buyers:
Never pay full price for retail products.
The reason is because markups are notoriously high. If you pay full price, you are paying more than the item is worth. You are also be paying for the store's rent, staffing costs, and other overheads.
Don't fall for sales tricks.
Don't fall for the wily traps that salespeople often use to tempt you into impulsive spending. Many stores only pay their salespeople on a draw. This means that sales people are forced to be manipulative to meet their sales quota. There are many tricks to part you from your money before you have made up your mind. Here are two:
The warm puppy close. The idea comes from the retail pet business. If a salesperson allows you to take a puppy home on a trial basis, they know you will fall in love with the puppy and not bring it back for a refund. Naturally, this works with anything, not just puppies. By taking something you like home on a trial basis, you are highly unlikely to bring it back.
Limited time offer. This idea uses the scarcity principle to close the deal. When you talk about wanting to "go home and think about it," the sales person will counter this idea with a subtle threat. Either the price will go up or the product will be out of stock.
Do your research. 
Once you find something you like, do some comparative shopping. Using your smartphone, you can quickly find another store that is selling it at a cheaper price. Similarly, compare online items with offline items. Many times, you will pay less online because there is no middle person. Since you are buying directly from the manufacturer, the savings are passed on to you.
When purchasing bigger items, buy used stuff in mint condition. 
When you buy a new car, its resale value drops as soon as you drive off the lot. However, when it comes to luxury cars, many people like to have the latest car of the year. Consequently, they trade in their older cars to a dealership. These older cars may be in near-new condition and you can get them at a discounted price by getting them from a used center.
On the other hand, you may live in a state with lots of big lakes and have always wanted a boat. Perhaps, your heart is set on a console boat because it reminds you of your family's boating trips when you were young. So, if you've always wanted a console boat, don't pay full price. Instead, why not look online for used center console boats for sale?
Buy during sales cycles.
Some items are more expensive at certain times of the year. Since new models need to be sold every year, you can get great deals on older models. Television prices, for example, often drop in February while home appliances get discounted in October and November.
Check for online coupons and promotion codes.
Places like DealNews allow you to get generous discounts. Such sites are particularly good about informing you about special holiday sales like Black Friday Deals.
Use credit cards strategically. 
While you may have got into trouble using credit cards in the past, you can also use them to your advantage. Get a credit card with 0% interest financing and avoid using store financing. Using the credit card at the introductory rate and then paying it off in the allowed price means that you can avoid any fees. Senior retail analyst for NerdWallet, Matthew Ong, explains how to use credit cards wisely: "As with all purchases on credit cards, you can actually do a lot of financial good for yourself, such as building credit and scoring rewards, as long as you use the card responsibility. With big-ticket purchases, using a credit card responsibly means keeping a low credit utilization ratio and paying off the purchase as fast as possible."
In the final analysis, using one or more of these 7 strategies will save you money on big ticket purchases.
Enjoy Plunged in Debt?
Subscribe to get our latest content by email.