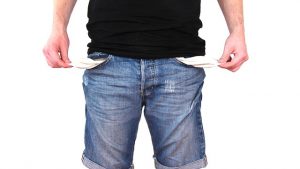 As you probably already know, getting in debt is surprisingly easy. Spending too much or overestimating your revenue can lead to big problems in the near future. Unfortunately, digging yourself out of debt is not easy. It can take many years to finally claw your way back to a debt-free life. Nevertheless, you must realize that the endeavor is not hopeless. With the right strategy and a little bit of luck, you'll eventually be able to get out of debt. Make sure you utilize the tips below to make the process much easier.
Target High Interest Rate Debts First
First and foremost, it is important to put your debts in order based on priority. Some debts will be far more difficult to pay off, due to excessive interest rates. Credit card debt tends to fall into this category. Always target the debts with the highest interest rate first since they'll accumulate and increase far quicker than the alternatives. Simultaneously, it is vital to target debts that would have the maximum impact should you default. Your mortgage debt should be near the top of the list. You do not want to lose your home, so make sure you prioritize your mortgage first.
Pay More Than The Minimum
It is a good idea to make sure that you pay more than the minimum amount. This isn't always possible, but you should do your best to make a bigger payment whenever possible. The minimum payment that you see on your credit card statement barely covers the interest. This is why getting out of debt is so difficult. The interest is calculated based on the average daily balance method, so if you're not paying down your debts, your interest will not go down much each month. By paying more than the minimum, you'll be able to decrease the interest related charges. Each penny paid to the debt will help to reduce the balance and the interest accrued.
Consolidate For Added Convenience
If you want to get out of debt as quickly as possible, you should consider looking into an online personal loans. Getting a personal loan to consolidate your credit cards will get you a fixed payment that will never change. You'll have this fixed payment for 3-5 years. In return, you'll be able to eliminate multiple debts and then make payments to a single lender. Since the payment is amortized over a fixed amount of time, the interest you'll pay each month will get smaller and smaller. Debt consolidation is a great way to kick start your get out of debt journey!
Rethink Your Budget
While you're at it, you'll want to take steps to reprioritize your budget. Try your best to cut back on excessive expenses that are unnecessary. For instance, you should always put the necessities first. Make sure that you set aside money for groceries, gas, mortgage, rent, and your debt repayment. Entertainment costs can be put on the backburner.
Consult With Friends And Family
If you're lucky, you might have a friend or family member that has run into a lot of money. If so, there is a good chance that this individual will be willing to help you. It might not seem right, but using their support can help significantly. Consider speaking with these individuals to see whether or not they'd be willing to lend their assistance. Just make sure that you'd be willing to do the same!
Enjoy Plunged in Debt?
Subscribe to get our latest content by email.