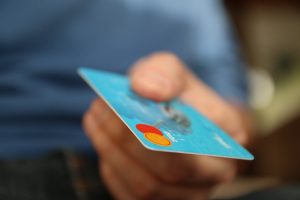 About 60 million credit cards have been issued in the UK, making them an incredibly popular form of borrowing for consumers. But, it's vital to be able to know how to manage the money you owe on credit cards. Failure to do so means that a convenient form of spending can quickly become a problem – with millions of people saddled with a big debt and stuck only paying interest on it.
So, how do you stop your credit card becoming an issue? Here are five tips to stop you from overspending…
Use introductory offers wisely
When you first get your credit card it will come with a credit limit and, depending on the card you have chosen, might carry an initial interest free spending period. It's tempting to see this as a licence to spend the full balance – and to think that you don't need to pay it all back for the duration of the interest free period. Yet this could prove costly. You should only spend what you need – your credit limit isn't a target to aim for – and should make a clear plan to pay off what you owe, ideally before the end of the interest free introductory period so that your debt doesn't grow.
Don't just make the minimum payment
Your credit card company will tell you what the minimum payment on your debt is and it can seem tempting to just pay this amount as it makes your debt seem more affordable. However, this will see you make little progress towards paying back your full balance and your debt could become a bigger issue as interest is added. If this is the case, you might well find that a balance which appeared affordable grows beyond your means and it feels like you've overspent.
Consider a balance transfer – but be careful with your new card
Moving your credit card balance from one card to another, through a balance transfer, can help you to manage your total debt. The Money Advice Service shows how shifting a £5,000 balance from one card to another could save you £622 in interest within 18 months. Cards that offer good rates for balance transfers don't usually offer a good rate for fresh purchases, however, so avoid adding to your debt once it has been transferred.
Don't take it out with you
Find it difficult to avoid the temptation of popping a purchase 'on the plastic' while you're out shopping? There's a simple solution: leave it at home. Don't give yourself the chance to give in to your spending urges. Don't save the card details in any online accounts either and, when you've paid your balance, consider destroying the card.
Consider using your savings to pay off a balance
Credit card debt can be expensive – and can grow a lot faster than your savings could if it sits in a low interest account. It might well pay to use your rainy day fund to wipe off your balance (you could 'pay yourself' back in the long run) to avoid the amount growing beyond a figure that you're comfortable with.
Enjoy Plunged in Debt?
Subscribe to get our latest content by email.