Before we get into today's post, how the eff is it Labour Day weekend?! Where did summer 2013 go?! I can't believe it's over. It's welcome on this end though, summer was buuusssy and I'm looking forward to the routines and calmness fall brings. If you missed my post from the other day about the terrible Emergency Fund advice I recently got, check it out, there's a ton of great comments.  I hope everyone has an amazing (and safe) weekend!!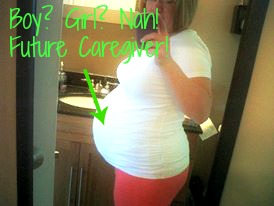 The other day I was getting caught up on a little blog reading when I checked out Jana's whitty post. While I highly suggest you read it yourself (seriously, do it) to summerize,  she was ranting about stuff you shouldn't say to moms of one child/the disgusting acts of competitive parenting. Reading her post reminded me of a few things people have said to me about the topic. Some things that kind of, blew my mind (and, of course, relate to personal finance).
In my job, I meet a lot of people. A lot of interesting people. Some really amazing people. I've treated everyone from celebrity families to heroin addicts. My job is diverse and the people are just as diverse.
Needless to say, I have some interesting conversations.
On my return from maternity leave, I had a conversation with a lady who I had not met before. As soon as she found out I was just returning from mat leave her first question was "when are you having more?" It drive me NUTS when people as me, or anyone, this question. It's none of your damn business if, and when, we have more kids. I simply responded by saying we were happy with the way our family was now and had no immediate plans to add to our family. I was hoping she would just drop the conversation and let me move on with the appointment, but she didn't.
She continues by saying "If you only have one kid, who's going to take care of you when you're old?"
Really?!
Why I understand that children often take care of aging parents, I hope to never put my child (or children) in that position. I want my children to be my children, not my caregivers. Again, I respect that every situation is different but I hope to save for a retirement that includes nursing care should I and/or my husband need it. As I said in Jana's post, I won't be breeding children simply so they can wipe my aging ass.
You should not have kids if you're thinking about your future only. You shouldn't have kids if you think they're your ticket to a cushy retirement because guess what, it may not happen. Without getting into too many family details I can guarantee I will not be taking care of my aging mother. Sometimes relationships don't work out.
My point is, you don't know what will happen in your life. You may have a plan. A plan that possibly includes having children so they can take care of you when you're old, but it might not work out. Shit happens. NEVER count on anyone else for your life. Children included.
Make sure you have life insurance, especially if you have kids (still on my to-do list), save for a proper retirement that may need to include private nursing services, and for the love of God, please don't have children with your retirement and failing health in mind.
Take care of yourself.
Opinions?