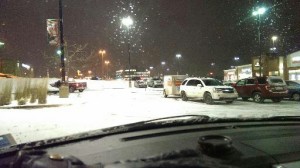 But Christmas hasn't happened yet…
I mentioned last week that for Christmas my husband and I decided to forgo the traditional "you shop for me, I shop for you" route and instead opted for a hotel for the evening and enjoyed each others company.
The evening was great. It was a little late starting due to babysitter issues, and when we finally got on the road it was getting messy due to some snow but we made it to the hotel, checked in then immediately went shopping. Our plan was to get all of our Christmas shopping done as well pick up a few items we both needed  as part of our "Christmas gift" to each other.
I'm happy to report that other than one person, which someone else is now picking up instead, we got all of our shopping done! I didn't know if we would be able to do it in a few hours but with a little planning and a game plan to go with it, we executed pretty well! Organization goes a long way this time of year!
We both needed a few items that we were able to finally pick up thanks to a little extra cash my hubby set aside from overtime. I won't lie, it felt great to be able to finally buy some of these things without feeling guilty about it!
I bought a new winter jacket that was much needed. I managed to get a great deal and got it on sale for $99 plus and extra $10 off since they did a price match. For $89 I can confidently say I will get my money's worth and wear it for a few years. I was wearing my last jacket for over five years so hope to get three to five more years out of this one.
I bought a really nice warm sweater on sale 50% off, an item needed in my pathetic wardrobe. I rarely buy new clothes (unless they're cheapy ones from places like Walmart) and the last really good quality sweater I bought, I still own, and wear from six years ago. From the same store I bought a nice dress shirt for my upcoming staff party also on sale 50% off and with these purchases we received a beautiful "free" winter toque valued at $25 that I will wear, especially during the Olympics (go Canada!).
I added a new bra and slippers to the cart and we were done for me. I also had a pair of new black flats on my list, went to the store where they were on sale for, you guess it, 50% off, and they had one pair left, in my size! I tried on the display shoe but she couldn't find the match

Womp Womp. No shoes for me. I might still order them online though since leather flats for $25 is too good to pass up.
My husband opted to use his money to upgrade his dying cell phone. I've already discussed how his phone is for work but they don't cover his bill (insert huge annoying grunt here) so he needs it to be reliable and his old Blackberry was dying a slow death. He was almost done his contract anyway so upgraded early when the phone he wanted was on for $0. He joined the Android world with the HTC One, what a great phone. He's happy with it. We also had new work pants on his list but the store didn't have the ones he wanted so we still need to go buy them at another location.
None of our purchases were extravagant and I'm happy with how we chose to spend our money. Oh, and the hotel was great. I slept in until 8:30am and it was amazing! I still feel good about getting that much sleep days later

Everyone should get eight hours of sleep, I forgot how great it felt. Kiddo had fun playing with her aunt and we got a much needed break.
How is everyone else's Christmas plans coming along?