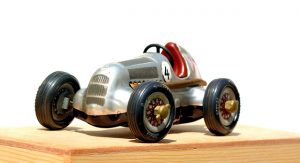 Imagine if something you've been collecting could get you out of debt. The following 10 collector's items are valuable, and certain items can sometimes be sold for incredible profits. If you have some old coinage lying around or you've been holding onto a historical document, now may be the time to sell it and use the funds to pay down your debts.
If you're not in debt, the best thing to do is hold onto your collection and periodically check to see if its valuation has changed. Don't sell until it's reached its peak of demand, and you may have to "piece out" your collection to get the most money, which means to sell one item at a time.
Vintage Cars
A rare classic car can be purchased for cheap and then sold for a fortune, but only if you fix up the right one. If you're lucky enough to find an Alfa Romeo Alfasud (there are less than 100 active in Great Britain), fixing it up can net a huge profit. Old BMWs and Fiats are reasonably priced and can be fixed up and sold too.
Historical Documents
According to Raab Collection, an internationally recognized name in historical autographs, "Historical documents of famous people are family heirlooms, which decedents of the writers and recipients, as well as collectors, often choose to sell." If you have a historical document, you can have it appraised and then auctioned or sold to a buyer. Your document is especially valuable if it was signed by someone famous.
Vintage Furniture
Period-piece furniture can be very valuable, and it fetches a pretty penny at auctions. When picking through rummage sales, have Google open and ready to determine the values of the furniture you come across. Who knows? You could end up like the French engineer who bought a famed 17th Century Japanese lacquer box for $160, and then used it as a television stand for 16 years before his family sold it for 7.3 million euros.
Sports Memorabilia
Have something signed by a legendary or infamous player? If so, it could be worth some money. Baseball card collections have also been known to sell for a lot of money. NuWire Investor has some advice on "Getting your hands on some treasures." The best piece of advice is to ask the world's current top athletes to sign memorabilia, and then hold onto it until it's valuable.
Postage Stamps
Have a rare stamp or an old stamp collection? Not all stamps are valuable, but some are incredibly rare and valuable and are found in older collections. Inherited stamp collections are almost certainly worth something, but determining the value will take research. The rarest stamps are worth the most.
Toys
Have you held onto your childhood toys? Although the most valuable toys are still in their packages, non-packaged toys may also have value if they're rare enough. Mandatory has put together a list of the "Childhood Toys You Should've Kept." If you've got a Teenage Mutant Ninja Turtles Scratch the Cat Figure or a rare Beanie Baby, you could end up with over a grand in a sale.
Other Valuable Collections
The above named collections are great to sell, but really any collection could potentially have value. If you've collected comic books, vintage books and classic novels, maps, old record albums, and old coins and paper money, you could be sitting on a fortune. The best thing to do is ask an appraiser for help, and don't sell if you're collection isn't at the peak of its value.
Photo courtesy of: oceanverde