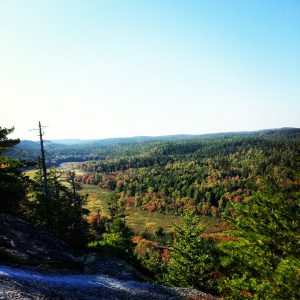 Soooo where did September go? Fastest month all year, by far. Last weekend was a stunning way to end the summer. It was sunny, incredibly warm and the perfect way to say goodbye to summer 2014. After looking at the weather on Saturday my sister-in-law and I quickly decided to figure out a way to get outside on Sunday and enjoy what Mother Nature was gracing us with. We went for a little drive and went for a hike and it was beautiful. A spot I drive by many times but never go to but will definitely be going back before snowfall! The photo was taken at the top of the hill we climbed.
September was a decent month for us. I was able to put a total of $2,100 towards debt. I was really hoping to put $2,200 but came short by just $100 which is about the amount I needed to re-add to our ER fund. An extra $665 is pretty decent though so I'll take it. I worked a few extra shifts in September and though I hated every second of that five-day work week (hated the time spent at work, not the job), I liked the extra cash. First world problems, I guess.
I had an ambitious goal last October of putting 20k towards our principal debt by end of 2014 but I don't think it's going to happen. I haven't done all the number crunching yet but it's looking like I'll be short by $2,500-$3,000. I know $18,000 in principle debt paid is still great but I hate not meeting my goal!
If you follow me on Twitter you probably saw that my new computer decided to crap out on me the other day. We're still not sure what's going on but in the process of getting it taken care of this week hopefully. My heart sank as I thought about my forecasted budget being lost…done until February 2015 with notes galore reminding me of stuff. I accepted it may be gone, at the very least I have zero access to it right now, so I re-did the whole thing from scratch (with major help from my husband) and it's now a Google doc. Why I didn't do this in the first place. Now I'm just hoping I didn't lose the 8G worth of pictures I just uploaded from my sD card, 14 months worth of photos. UGH. Fingers crossed the issue is a warranty fix and my darling two-year-old didn't dump water/juice/freezie/spit on it without me knowing while watching "Frozen" for the 2828412584 time.
I know Jordann is kicking ass and trying to make that 25k Net Worth by her 25th birthday….How did everyone else do?