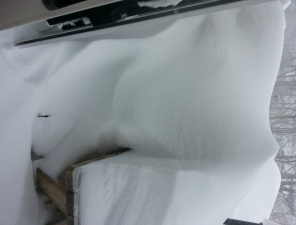 Though I do my monthly debt repayment updates, it's been a while since we looked at our overall debt. Given that I'm currently sitting under a massive amount of snow (see picture), and avoiding my income tax, I decided to write this instead. Back in October I decided I wanted to payoff $70,000 in 36 months (of remaining $81,500), something we're still working towards. I have ambitions of knocking off a few months so this is a "worst case scenario" plan.
To remind people…
Our highest non-mortgage debt, back in  winter of 2010/11, was at around $135,000. This included traditional student loans, student lines of credit, some credit cards (used for tuition…) and a vehicle.
Given that the interest rate is so low on our debts (all under 5%) even making minimum payments had an effect and we were able to pay off thousands with little to no effort. It wasn't enough though. We were still going to be in debt for 10-15 more years if we didn't ramp up our efforts.
During my maternity leave in 2012, we decided that we finally needed to quit making minimum payments (as we were since January 2010) and get real. We cut our expenses, made many budgets, consolidated some debt and came up with a plan. We wanted to live our life with our daughter and that life didn't include any debt. Given that I was on maternity leave until end of May of 2013, and needed to make up a bit of lost income when I did go back to work (ie deal with some expenses that came up while off that we couldn't afford at the time and added daycare costs) our efforts didn't truly start in full swing until end of 2013/beginning of 2014.
As of today, our total non-mortgage debt is sitting at $72,756.98.
In just a few months our debt will be more than half gone. Half of $135, 000 is a lot of money! It will have taken us five years to pay off the first half and only 2.5 years to pay off the remaining half. It's amazing what you can put your mind to when you really want. It's also amazing to me to think that if we had put this much effort in from the very beginning I wouldn't be writing this right now as we'd likely be debt free.
Mike and I have learned a lot on this financial journey and continue to learn every day. The last five years have flown by so I know the next 2.5, though I feel like may go on forever, will also go fast. Maria turns three in less than three months and that scares me. I'm excited that by the time she starts her education we will have finally paid our (post secondary) off. It's not been easy but it's been so worth it!