The following is a sponsored post from CIBC. All opinions are mine.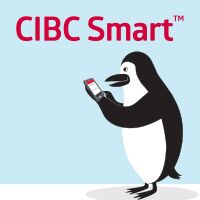 I've banked with many banks in my life. From credit unions to online-only banks, I've tried them all. It wasn't until we went to a mortgage broker when we were buying our house a few years ago that I had any connection to CIBC. Long story short they offered us the best rate and over the next few years we went from having a mortgage to switching everything over to them because they were so great to deal with. Features like the new CIBC Smart™ Account are one reason why we continue to bank with them today.
Additional Bank Fees SUCK.
There are a number of reasons why we enjoy banking with a traditional ''brick and mortar'' bank (over online-only bank) but we still enjoy using a lot of online features our traditional bank offers. In particular we seem to send a lot of Interac e-Transfers which, at the end of the month, can really add up in additional fees. We had one month where we sent almost 20 Interac e-Transfers and had to pay quite a bit in additional fees. We've accepted we'll have monthly account fees with a traditional bank, and we're happy to pay them, but no one likes extra bank fees. With CIBC's new Smart Account, we no longer have to worry about things like Interac e-Transfer fees. This is one great feature of the new account system.
A Look at CIBC's New Smart Account
How this new account works is quite simple. A CIBC representative told me that the CIBC Smart Account monthly fee starts at just $4.95 for up to 12 transactions and caps at $14.95 for unlimited everyday banking transactions, which now includes Interac e-Transfers. This account is the first of its kind to offer unlimited Interac e-Transfers. The monthly fees may also be waived if a minimum daily balance of $3,000 is maintained and if you have a recurring direct deposit or two pre-authorized payments each month.
For us this is actually a huge help considering the sheer volume of Interac e-Transfers we send. Last month I was involved in an important local fundraiser which involved sending small $5.00 e-transfers to the host upwards of twice a week. It was so nice to not have to think about the $1.50 every time, especially for such a small amount.
Before CIBC came out with its new Smart Account, there have definitely been times where I have been late paying someone back because I would rather use cash and avoid the fee. This can be super embarrassing sometimes but whenever I had used our ''two free e-transfers per month'' (a feature we had in our old account) I hated sending money knowing we'd have an additional fee associated.
I'm a big fan of this new Smart Account setup. We definitely have months where we use our bank account quite a bit and other months when it seems we do nothing but allow the auto-withdraws to come out with very little additional activity. I'm now assured I'll only ever pay for the volume of transactions I use that month and not a generic one-size-fits-all fee. For reasons like this we'll continue to bank with CIBC.
For additional information please check out CIBC.com.