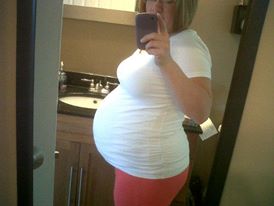 What to know what's criminal? The cost of maternity clothes. Stick the word ''baby'', ''maternity'', ''breastfeeding/nursing'' or ''pregnancy'' in front of any regular item of clothing and suddenly the price is increased significantly. Most pregnant women will need some form of maternity wear throughout their almost 10 month gestational period so, unfortunately a lot of these maternity specialty stores have a monopoly on the niche population (though there are many tricks out there to getting the most out of your pre-pregnancy wardrobe). Add in the fact that some people, like me, live in an area with very slim pickings in terms of where to shop for such items and suddenly I'm looking at a pair of pants with a price tag of $80.00 and I'll wear for less than five months.
My first pregnancy was over four years ago and was in opposite season. I was biggest/really only needed maternity clothes in the late spring/early summer with my first, where this time I'm not only showing much earlier, I will be my biggest in the late summer all the way into winter. I also didn't buy much of anything during my first pregnancy that I could keep for this one. In total I carried over two shirts (one quite dressy), two scrub tops and a pair of smaller jeans. I was determined to squeeze myself into ''regular'' clothes as long as I could because, as mentioned maternity clothes as so, so expensive.
Target doesn't exist in Canada, my local Walmart doesn't carry maternity wear and neither does my local Old Navy (nor does online have an option)…the top three affordable choices for moms around North American don't exist for me so I had to look into alternative options since I was quickly popping out of all regular clothes.
Here are a few ways to build a maternity wardrobe without breaking the bank:
Second Hand Stores
I have checked out my local thrift stores but I haven't had any luck. I am convinced our local women share their maternity wear among friends or sell privately but I had to include it because it's always worth looking into. Like most young children's clothes, maternity wear is often only used for less than six months so if you do have luck you can buy almost new clothing for much cheaper.
Classifieds
I don't live in a huge city and, as mentioned there are really only two options for clothes locally- two popular chain stores and a few upscale maternity boutiques. This means you can expect clothes from these expensive stores to pop-up online. Though I haven't bought anything via online classifieds I have looked and there are good deals. Just last week a lady was selling a dress from a local boutique which she paid over $140, wore for three months and was selling for $40. Not bad.
Online Shopping
I have little option in terms of online shopping but there is one website that I have had success with called Zuliliy (not an affiliate link). The risk is that there aren't any returns but I haven't had any trouble with their products. I found a two pack of maternity tank tops for $12, a dressy t-shirt for $10 and a dress to wear to a wedding at seven months pregnant for $30 (from $90) all of which I have been very happy with and all of which I can re-sell via online classifieds when I'm done.
Cut Coupons
I hate signing up for most email signups but when it comes to baby, my experience is that it is often worth it. Over my two pregnancies I have had opportunities to save some big bucks on items including maternity wears. One of the emails I get every few weeks includes a coupon for 40% off at one of these fancy maternity wear stores so when I found myself approaching the cooler months and a few events to attend with literally one pair of pants I can squeeze into, I decided to buy a second pair. The pants retailed for $79.98 (simple pair of skinny jeans), were on sale for $64.99 and I was able to use one of these coupons putting the $80 pants at $39. Outside of my work scrubs I will wear these two pairs of pants plus a pair of leggings throughout the next three months and into the first few post-natal months.
In total I have spent about $100 on maternity clothes for my pregnancy and I'm happy with that. After baby is born I will need a few nursing bras which will probably run about $30 each but I plan on working those into my November birthday gift (adulting is fun). I won't lie, when I'm at home or lounging I've been mostly wearing my husband's old t-shirts since I draw the line at buying fancy maternity PJ's and lounge wear. I have been taking care of the items I have purchased and hope to recover some of the cost by re-selling as well.
How did you manage your maternity wardrobe? Any other tips?