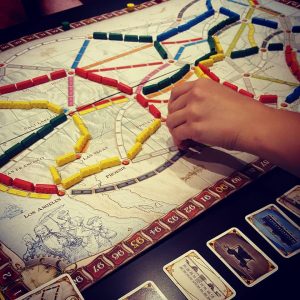 I admit that a lot of the things I enjoy doing for ''fun'' involve spending money. I love eating out, I love going out for coffee with friends, I love farmers markets, I enjoy going to the gym, I love going on road trips, I enjoy concerts and theater…all of these things cost money. There was a time (multiple, if I'm being honest since the inception of my money-earning days) that I was broke but was still looking to have a good time.
I actually love(d) these days though. I mean don't get me wrong, people don't enjoy the feeling of being strapped for cash or not having an emergency fund in place, but given the opportunity you can learn a lot about yourself and really understanding your wants and needs when money becomes an issue. It was during these days that I learned how to have a good time without spending much, if any money at all. Even though money isn't an issue anymore, these are things I still love and regularly practice today.
Board games
Growing up, cards was something I always enjoyed but I'll be honest, playing board games wasn't a big part of my childhood. As an adult though, when I was trying to plan an evening in (because going out was not an option!), I decided to ask friends to bring some games that that had, with them. I wanted something to do that wasn't watching a movie or sitting around doing nothing. I loved them. It was that year that my husband and I really got into games. My husband's family had always played games so he already owned a few, we just hadn't done much together or with friends. Over the years we have acquired quite the board game collection. A few we've bought new, some in great shape at second hand stores and a few as gifts. We have our favorites (Catan and Ticket to Ride top the list) but we're always looking to expand.
Having a game-night in is not only uber cheap, it's incredibly fun. I can honestly say I would rather spend an evening in with friends playing games than out at a restaurant eating and drinking our bank account dry.
Walks and Hiking
Most of my life I've had access to a rec center membership. I really enjoyed going to the gym but a time came when we had to give the membership up, it just didn't fit in our budget anymore. I relied mostly on walks and hikes to get my exercise in and guess what…I really honestly enjoyed it. I would usually go with my sister or a friend, we'd meet up and go for a decent 4-5km walk a few times per week. When I was on maternity leave, my daily walks were the key to me losing weight. I love finding new places to explore and enjoy getting caught up with friends or being with my own thoughts for a little while. Best of all, it's free to walk, and it satisfied that ''I want to be in a coffee shop drinking coffee with you'' itch.
Cooking
I have a funny relationship with cooking. I actually don't enjoy cooking for just two adults, but love preparing a meal for a crowd. When going out to restaurants regularly wasn't an option, not just for us but many friends too (babies, wedding and new homes do that to you), I started offering to cook in much more. I have become pretty good at feeding a crowd on a budget and really enjoy it. Combine with a few board games and you can have a pretty decent time for minimal cash spent. You can easily turn it into a potluck style meal as well to save even more.
There was a time where I really thought I needed to spend money to enjoy myself. I'm appreciative of the times when spending money wasn't an option though, as I've really learned what it was I wanted out of those situations and can easily replicate for little to no actual money being spent.
What's your favorite way to have fun without breaking the bank?