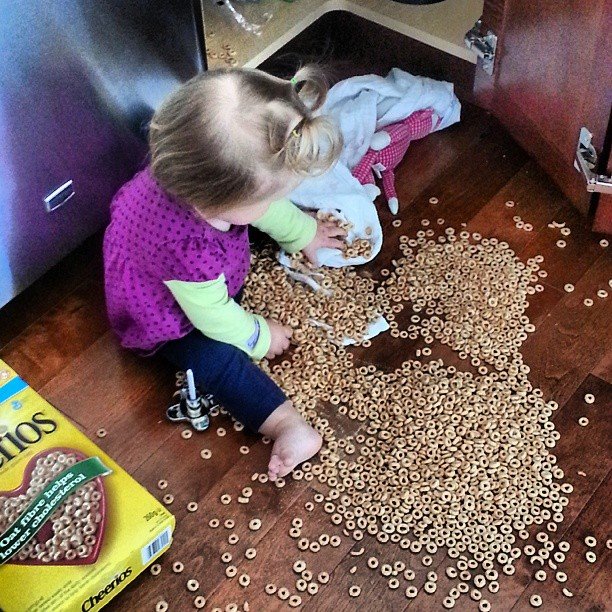 I should have known Tuesday was going to be a shit day. It started with me getting three, maybe four hours of sleep the night before due to a cold starting, no medication in the house and a teething kiddo. When my alarm went off at 6:29am (I have a weird thing about setting my alarm at odd times) I wanted to punch a hole in my nightstand. Reluctantly, I got out of bed and hauled ass to the shower.
We were running a few minutes late because we couldn't find anything that we needed (of course). I ran to put my freshly poured coffee in my travel mug when I realized some douche canoe had bumped into me the week prior and broke it. Wicked. Sick, cold, tired, late and no coffee.
The only thing getting me through my morning was knowing that I was off work at 2pm, three hours early!! Hubby and I were going to run errands, baby-free, and I was excited about some amazing grocery deals I was in for (yes, this is the extent of excitement in my life,$0.17 broccoli). I walked to the ferry when I got off work at 1:50 only to find out it was on reduced hours due to construction and I was going to have to wait 30 minutes. UGH.
I managed to score all the deals I wanted grocery shopping which put me in a great mood, I almost forgot how exhausted and crappy I felt.
We picked kiddo up from daycare and went to one final store to grab our final item. And then the incident happened.
We went into said store, came out about five minutes later and as we were approaching our vehicle the alarm started going off. Panicking my husband started pushing every button on the key fab to make it stop. Had he accidentally pushed it? No. My keys were within the vehicle I had nothing but the kid in my arms. The alarm started going off seemingly on it's own and nothing would make it stop.
The keys wouldn't work. We couldn't get inside the vehicle and we couldn't make the alarm stop.
Our smart keys have an override/valet key that we had access too, that allowed us to open the drivers door to get in but our keys still wouldn't work. We couldn't start the vehicle or open any other doors. Normally if the alarm starts as soon as the proper key is put in the ignition it will stop since it realizes it's not being stolen, or if it is being stolen they managed to get the right computerized key.
Thankfully we have roadside assistance with our vehicle so we called after about ten minutes of nothing working and the alarm still going off.
Guess what though? The dealership was closed so they couldn't offer any immediate assistance other than a tow truck, which, would be an hour. Did I mention the trunk full of groceries, a hungry kid who needed a diaper change and no shoes on? Thankfully it wasn't raining…
Roadside assistance offered a few troubleshooting options which didn't work. My husband finally decided to go into the fuse box of the vehicle and pulling the fuse for the horn. Finally after, ohhhh 30+ minutes, silence.
My father-in-law drove in and rescued the kiddo and I since it was now approaching her bedtime and she needed to get home.
Long story short, vehicle was towed to dealership overnight and the problem was fixed the next day at 5pm. The problem was only covered until 60k km under warranty and we were at 62k km (go figure). We had to pay for the repair which included reprogramming the entire onboard computers and key fabs. 15 minute job and $120 later we have a vehicle that works.
For this I am glad I have my baby emergency fund started though I feel like it's one step forward, two steps back when it comes to trying to establish any sort of savings.
Has anyone else had to dip into their emergency fund lately?