I am SO glad friday is here (even if it's Friday the 13th!). You have no idea, it has been a crazy week and I feel like I've been running around like a chicken with my head cut off. I got a phone call  from my credit card provider this week to confirm some recent transactions on my credit card. I didn't even need to hear what they were to know it wasn't us since we don't use the cards. No I didn't buy anything from BestBuy and I certainly didn't attempt to buy anything from an online jewelry store. I've never gone through the process of dealing with confirming/denying transactions, what a pain in the ass! Of course they called at 6:30pm when none of us had eaten yet and all kiddo wanted was Momma. Though I'm glad they caught it before me, still bad timing and a pain to deal with.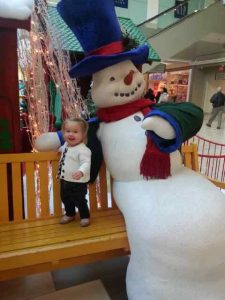 We've been frantically trying to prep for our annual Christmas party this weekend as well. Since we won't be home tonight (our date night!) I needed to get as much done this week so I wasn't bombarded Saturday afternoon. It's always a fun time but a lot of prep. Hubby was supposed to have the day off today to help but something came up and he needs to work for a bit now…Boo. I'm so thankful for a helpful sister-in-law who will  be coming over for help in the child rearing/party prep!
My baby is officially no longer a baby :'( She turned 18 months this week officially entering "toddlerhood" (insert sobbing). It's bittersweet, I love watching her grow and develop into this little functioning human, but I just want to hold onto everything as long as possible. I feel like I'm never going to get over this though and it's just apart of parenting. I've accepted I'm going to be that mom crying at everything. She's been amazing to watch. Her current thing (other than adding to her ever growing vocabulary) is to twirl around while dancing. She shakes her little bum, lifts her feet like she's stomping then starts twirling like a ballerina. Her Godmother was an accomplished dancer, as was her aunt so they'll be proud when they see

I got an award! Wendy from Girl Meets Debt decided to share a little blogging love and thought I was worthy enough for one of her blogging awards, I was touched

I hope everyone has a great weekend! Any plans?