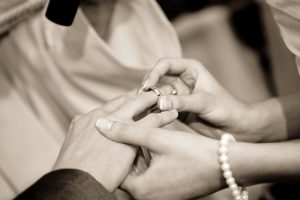 I actually love weddings. Maybe I'm saying this as I have been fortunate to have been spared from attending too many, and the ones that I have attended really were for the best of friends and family, the ones where you're genuinely excited for the couple. It's no secret though that attending a wedding can be expensive. The amount is exponentially higher if you're standing in the wedding party.
This past weekend we attended the wedding of one of my best friends, who also happens to be my sister-in-law. Our daughter was the flower girl but neither my husband nor I was standing in the wedding, something that was fine by the both of us. When the engagement happened, we were asked if our daughter could stand as flower girl, and, realizing neither of us would be on the hook for wedding party costs, I did a quick budget in my head.
The flower girl outfit wouldn't be much. In the end, her shoes, which I paid $18.00 were the most expensive part of her outfit. A combination of frugality and sheer craftsmanship by my sister-in-law kept costs down. The fact that I was able to get away with spending less than $30 on her was pretty fantastic in my mind. Where I seriously underestimated in terms of cost though? Hair. Our daughter is four and initially I thought I may do something in terms of her hair but as the wedding day approached us, and I realized the extent of my involvement for the day (I helped with driving people around and was the flower girls chauffeur for pictures), I knew I would need help.
I called around about getting her in somewhere to have a simple up-do done. The cheapest place I could find, started at $25, money well spent in my mind. Well I guess her up-do was a bit more complicated? (I never did get an explanation) but with proper tip I ended up paying $46.00, a bit more than I would have liked.
Me, being seven months pregnant required a proper maternity style dress; thankfully I found a great dress for a great price online which worked well. No complaints. The only issue I didn't consider until 7pm the night before the wedding was the fact that I didn't have any appropriate underwear to wear under the dress (an issue the ladies will sympathize with and men will probably not understand). I didn't need anything fancy but I did need something that wouldn't show through the cream color dress and that I wouldn't be uncomfortable in all night. My last minute mistake, resulting in going to the only store that was open close to my house cost me an additional $15 (and I don't even like them).
In the chaos that was leading up to the wedding, I also didn't consider how much extra gas we would need (we helped with much running around) and, how much money would be spent on cabs. The day of the wedding I left the reception early with the flower girl (who lasted until 10pm) so that meant my husband would be cabbing it back to the hotel which, per the family's request, we rented even though the wedding was in the same town we live in. People were coming from away and they wanted as many people together that night (i.e. after party…) and the next morning for breakfast and goodbye's.  A total of $200 more that wasn't in my first mental budget.
Another added, but arguably unnecessary cost to some, was that we (my husband) took on the task of making sure the groom had a bachelor party. The bachelorette party, something I did partake in, was pretty cheap given her choice of activities and the fact that I was pregnant. I left home with $40 and came home with change. The groom however didn't have one planned as his groomsmen were located as far as the UK (where he's from) to the other side of the country. The groom is one of my husband's best friends though so he did what he could with the mutual friends they had here and threw a little to-do for him. It wasn't anything over the top but did cost some money. Money that I think the groom much appreciated come the end of his party.
The only budgeted amount that stayed the same was the wedding gift since I had full control and didn't budge. In the end when all the hidden and overthought wedding costs were finalized we spent close to $350 more than originally anticipated, proving that small costs really do add up.
When was the last time you busted your budget attending an event?