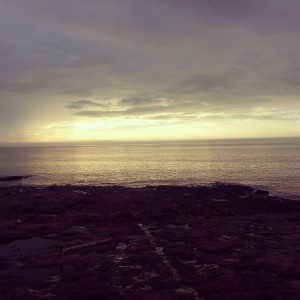 Growing up a friend of mine found out his grandfather was terminally ill at a fairly young age. He was in pretty good health (otherwise) but knew he'd be dead likely within the year. The grandfather sat the family down and explained the situation with the family. He wanted to take the stigma out of talking about death and money and wanted to make sure he appropriated his money the way he wanted to spend it. He didn't want to leave a bunch of cash for the family to deal with after the fact.
He took the entire immediate family (eight total including him) on a vacation for two weeks in Europe, a trip most of the family members would never have been able to afford. He explained that he wanted to see his family enjoy a trip of a lifetime while he was living rather than him looking down and feeling like he missed out.
I have to be honest, given that we're on hardcore debt repayment mode, we're not quite yet thinking about retirement let alone estate planning. I do know however that I have zero intention of building a retirement fund that includes any "leftovers" for my children though. I'm in the school of thought that would rather help them (or others) while alive. I want to be the one seeing the enjoyment while alive rather than after I'm gone.
Some people, for example, may choose to give their children money for a downpayment on their first home (I have varying thoughts about this) but this may be a way for someone to spend their money before death. If this is what the parents want to do (rather than leaving a decent chunk of change after death) then who are we to judge?
A little different but we already have intentions of paying for most, if not all our daughters post secondary education. This is a massive ticket item in my mind. Money we're giving to her to she can start her adult life out on the right foot (ideally debt free) and money that we are not investing in ourselves. The fact is that if we didn't have a child, or we chose not investing in her post secondary education, it would be more money in our pocket/retirement accounts but I would rather spend this money on her than have that much more in retirement at the end of the day.
Everyone is different, my grandparents passed away with a very large estate, even if they hadn't died at a young age they still would have had a significant amount of money. This just won't be me. You better believe if I find myself to be a 85-year-old woman, and still have a bunch of money left to my name, God willing you'll find me flying around the world looking to eat the rest of my money at the best restaurants around, enjoying every last penny, after all I earned it and I want to enjoy it.
Are you planning on spending it all or saving some for future generations (or donate to charity/give it all away/anything)?