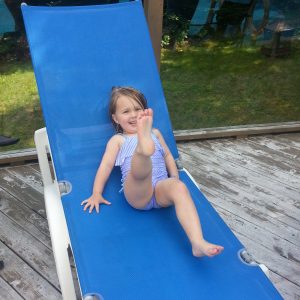 This past weekend was a long weekend here and it was one of the best long weekend we've had in a long time and we didn't even have to leave "home". Just coming back from vacation last week, this long weekend crept up on us. We had no time to plan ,and coming off a rather expensive family getaway, left us with little money to spend.
As much as I love vacation, I love getting home. Five days seems to be my limit before I start longing for my bed and most importantly, routine. We were gone for five days last week so staying home was exactly what I wanted. We'd normally capitalize on a weekend like this (with extra days off work and perfect weather) to go camping or plan some sort of getaway but even with camping the costs add up.
We have many financial goals right now, everything from the obvious (paying off debt), to funding our adults-only getaway next March with friends, we weren't interested in wasting money on anything that wasn't super important to us and so it was decided that we as a family would have a cheap, fun weekend at home and it was perfect.
Not having anything specific on the agenda for the weekend other than a family potluck Saturday afternoon, I called my sister to see how her very recent move went. On a whim, Maria and I went met with her and went for coffee after running to the grocery store for a missing potluck ingredient. Knowing we had to provide for the potluck, and keep things cheap, had me get creative. I ended up making something that only cost me an additional $4.99 over and above everything I had on hand and made one of the best things I've ever eaten so I was happy. Making enough for 25+ people can be expensive so I was happy with how well my dish turned out. We had a full day of good weather, coffee with my sister, family potluck, and for Maria- an epic water gun fight with her cousins. The whole day of fun only put us back $10 for missing ingredient, coffee for me and sprinkle donut for the kiddo.
Sunday was hot. We all woke up early and took cover in our much cooler basement. Sunday consisted of a lot of Lego building for Maria and Mike, watching afternoon baseball games, coffee visit with my in-laws, walk and park visit for Maria and I and us trying to get Maria to ride her free-to-us bike for the first time. It was great. We were getting really warm playing outside in the high afternoon sun so we ended up coming inside and at Maria's request, watched Frozen. Feeling hot and lazy- and realizing we had very slim pickings for food since we hadn't done a grocery shop since being home- we got pizza for supper and it was delicious. I was all too happy to spend $30 (hubby's treat to us with his own side hustle $$), have food cooked and delivered to my house in less than 30 minutes, and almost no clean up. I didn't have to turn my oven on or stand over a BBQ, loved it.
We're lucky that we have family who has a nice large pool. With the heat continuing into Monday we took up their invitation of going over for a BBQ and swim. We had a ton of fun playing in their pool and having a great BBQ supper, it was the perfect way to cap off the end to our frugal long weekend. For less than $40 total we had a great family weekend which included a yummy treat pizza supper, and I couldn't be happier!
What's your favorite way to spend long weekends at home?