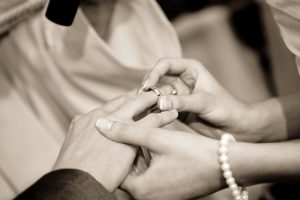 Tying the knot can be a costly endeavor. Some couples are willing to throw away hundreds of thousands of dollars in anticipation of having the "wedding of the year." Usually the money isn't even coming out of the bride or groom's pocket. It's their folks that go into debt to finance this extravaganza. And for what, I ask you? As an indication of the state of marriage these days, a report released in December 2012 by the Office of National Statistics in the UK indicated that 42% of marriages in England and Wales end in divorce and that 34% of marriages are expected to end in divorce by the 20th wedding anniversary.
So with cockeyed optimism aside, the question remains: why spend a fortune for a wedding that has less than a 1 in 3 chance of surviving? Wouldn't it be smarter to pare down the costs from the get go and with some of the 'spare cash' lying around you can purchase a house or a horse or something that can appreciate over time. Making a sound financial investment such as gold is also a prudent move. Or maybe put the money in a special education account in hopes of spending it to cover your child's nursery school fees which, down the road, will be more than what you are now paying for your entire marriage ceremony.
So let's discuss how to make a really nice wedding at a fraction of the expected cost.
We can start with the invitations. This is the first area which can not only save tons of money but offers you the opportunity to use your creative talents. Free online invite services such as Paperless Post gives you allows you to select colors, fonts and styles that can be cutesy or sentimental. After designing the invitation just type in the email addresses of those you wish to invite and send them out. No addressing envelopes, no sticky stamps, no cost. RSVP's come directly back to you. Set up an excel sheet and voila. An instant tracking system.
Let's move on to the guest list. Here is where you can really cut costs. I know how much your parents want to impress their friends and simply must return the invite to all those people whose weddings they attended. But it really isn't your parents' wedding and I must admit that I am often quite relieved when I am NOT invited to the affair of a good friend's son or daughter. To still make them feel special, however, several days after the wedding, your folks can take out 20 good friends for a small dinner at a moderately priced restaurant. To give your ceremony a cozy, close-knit feeling, do try to keep your guest list to about 100 couples at most.
Flowers next.  I know this may sound cheesy but today's 'fake' flowers are so lifelike that I've seen many a person walk up to one and take a sniff. (They are always so embarrassed when they realize they have been fooled.) Fake flowers are portable and can be moved around from one place to another. And then, they can be taken home forever!! Flowers as showpieces on the tables have given way to more imaginative centerpieces such as decorative candles which add a romantic atmosphere to the tables. Of course, a beautiful single red rose standing proudly in a tall glass vase can never be duplicated.
On to the bridal gown. Most brides will not budge on the topic of their gowns. Many insist on the old fashioned look of the full flowing skirt which converges into the long train held by a bridesmaid or simply trailing along behind her as she walks down the aisle. Others are more modern and will go for a shorter dress, slim and sleek and fitting her to a tee. In either case, my advice is to rent or borrow. Buying a dress to be worn for one night is a terrible waste of money and what will you do with the dress afterwards? I know from experience that 'saving' the dress for the next generation may be quaint but it is really not worth it. I kept my wedding dress made of satin and lace for years in an air-tight bag and it still turned yellow!!! It did have some use, however. It became part of the costume collection used during adolescent drama productions.
The pre-ceremony reception can be pared down to a few hot dishes and a selection of salads. Some pastries and drinks round it out. Yes, that mound of chopped liver and brilliant ice sculptures have become passé and have been replaced by selection of multi-shaped crackers and humus dips.
Now to the dinner. It's difficult to bring down the cost when it comes to food but there really is no need for two appetizers, a choice of 3 entrees and 5 different side dishes. Presenting a choice is a luxury and most guests are happy with the selection you make for them. Dessert is another story altogether. The rule is to never cut back on yummy desserts. These are what people will remember long after the last glass of champagne is downed. Choose at least four or 5 types of pastries- one hot mushy cake and at least 2 chocolate ones-and present them with some cut up fruit on the side and a bowl of chocolate syrup. Coffee and tea should be served separately. Don't forget the fresh cream!!
There you have it. A fantastic wedding at a fraction of the price. Have a great time!!
Cina Coren is a contributing editor to DailyForex, a website that sponsors FX Academy, an online program for educating traders to the world of Forex.