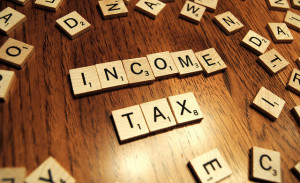 If you're the type to worry over your taxes, even if you've avoided all of the red flags and you're sure you've done everything correctly, you may be worried about the possibility of facing trouble with the IRS. No matter what the problem, it's never easy to resolve IRS issues. If you're afraid there's a chance you might be subject to something like a tax levy, it will be helpful to know in advance what you are up against.
What is a Tax Levy?
A tax levy is the seizure of your property or estate by the IRS to be used to pay off the amount that you owe. The IRS might, for example, levy your bank account. If this happens, the bank will hold your funds up to the amount that you owe for up to 21 days. At the end of 21 days, the bank is required to send in the owed amount. The IRS can also levy your wages or salary.
Some people confuse a tax levy with a tax lien. In most cases, a levy is more severe than a lien. If you are facing a tax lien, the IRS will only secure your property. This means that they have not seized ownership of your property, but rather have staked their claim to your property because they feel that you might not pay your debt or you might lose your funds before you pay your debt.
You Won't Get Levied Out of the Blue!
If there is a problem with your taxes and the IRS wants to subject you to a tax levy, rest assured that at least you will be given some warning. The IRS is required to first send you a notice that there is a problem with your taxes and that you need to correct your payment. If you fail to respond, they will then send you a notice of intent to levy. After this, they will notify you of your right to Collection Due Process hearing. Generally, if the IRS is going to levy you, they will begin mailing you about six weeks after you have filed taxes and they will send you five letters giving you notice.
How to be Proactive
If you know that you owe money to the IRS or if you have received the first of these notifications, it's time to act! The worst thing you can do is ignore notifications from the IRS. If you can, now is the time to make an immediate lump sum payment of the amount that you owe.
If you can't pay back the full amount, now may be the time to borrow from friends and family or to take out a loan (though of course, taking out a loan may carry other problems that you should weigh carefully).
If you can't borrow the money, it's probably time to get professional help with a tax levy. Don't wait until you have received all of your notifications and the IRS has actually enacted the levy. If, instead, you start to work with an attorney or CPA right away, you should be able to work out a payment agreement with the IRS or you may be able to get an extension of up to 120 days so that you will have more time to earn the total amount you need to pay off your debt. In most cases, this is what people will end up doing anyway if they do get a levy, so it makes sense to go ahead and take action as quickly as you can beforehand.
Other Options
If you do wait until you have actually been levied by the IRS, you still have a few options:
Make an installment agreement. This will allow you to pay back the IRS in increments over an agreed upon period of time. However, you will need to negotiate these terms with the IRS and the IRS will need to agree to them. Once you have agreed on a plan, any garnishing of wages will cease.
File for an Offer in Compromise. This option allows you to propose a lower amount than your total debt as full payment to the IRS. However, you will need to be able to prove that paying back the total amount would cause you significant hardship, and you will likely need the help of a professional in pursuing this option.
Pursue innocent spouse relief. If you filed jointly but feel that only one of you should be help accountable, you can file to protect the other spouse, though this option is not often accepted by the IRS as you are both legally accountable for the information on your filed taxes.
Appeal the levy. In rare cases, the IRS will make a mistake and give out a levy unfairly. If you believe this has happened to you, you can appeal the decision though you should be aware that the IRS will be less likely to accept your appeals if they feel you are doing it to stall.
Planning for the Future
Whether or not you choose to work with a professional on solving your tax levy, it makes sense to take this as an opportunity to plan for the future. Be sure to keep your finances organized. Try to evaluate what caused your tax problem and work with an accountant or trusted friend or family member to renegotiate your finances and expenses to be sure you aren't making any mistakes.
Photo courtesy of: GotCredit