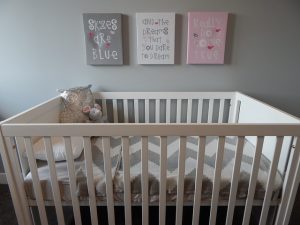 When I was pregnant with my daughter, the room in our house that would become her bedroom was the only untouched room in our house. We had painted and renovated almost every other room in our house but that was the final one. It had become a bit of a storage room for all our random stuff. I found it difficult to not obsess over how we were going to prep this room for her. It was going to be her space, created at first, by us.
We picked paint colors, crib, curtains, and pictures for the wall. I wanted a fancy rocking chair, change tables and shelves full of stuff for when she came home. I'd spent hours days scouring websites like Pinterest trying to perfect her room. Our only restriction in the end, was money. We didn't have anywhere near the money to prepare the kind of nursery I thought she deserved and needed and it took me a while to accept it. We were gifted a beautiful new crib, we found some pictures on clearance and bought her curtains off a sale rack. The chair I nursed her in was an antique that we borrowed, there would be no fancy change table and shelves were never hung displaying her baby stuff.
Over four years later, I can honestly say, none of it mattered. The paint needed to be done since the room pre-paint looked like someone chugged a bottle of Pepto Bismol and threw up everywhere but other than that none of it mattered. She didn't notice the pictures, the matching curtains or lack of stuff. We never bought a rug to put on her floor and we changed her wherever we needed to, since there was no dedicated change table. Four years later, she's a pretty happy kid and the lack of perfectly coordinated nursery-turned-toddler room hasn't mattered once.
She now sleeps on my husband's childhood bed and loves it. Her walls are covered in wall decals that she's picked out and placed herself (you can imagine how that looks). She does have shelves, which I made and painted myself and holds a fraction of her massive book collection. She loves them.
As we prepare to welcome baby 2.0 in the next few weeks (scary that I'm talking in weeks now!) I realize so much of what we think is important for our children isn't. I'm a member of a few mommy boards and creep on some websites and blogs and it's so easy to tell first time moms from experienced moms. The rooms are no longer coordinated, they're not dropping hundreds, if not thousands of dollars on perceived needs for their baby. One feed on an app has 576 current photos of moms sharing their nursery pictures. In my creeping and estimation I'd value the average room at a minimum of $2,000 (and according to at least one source, that's a low estimate).  I'm not judging though, really, it's a process I think most first time parents will go through and it's so hard to resist.
We were stopped only because our bank account wouldn't allow it and know what? I'm glad. I don't miss anything we didn't have. Not once do I wish I had a dedicated change table or wipe warmer. With this pregnancy, the room will be slightly made over once again as the kids will be sharing a room until we move and we won't be spending much money. This time it's not necessarily because we don't have the money, I could have definitely saved a chunk of change since finding out I was pregnant, but because I know what's important and what's not.
We'll be painting our daughters purple bedroom in the next few weeks to something a little more gender neutral. She will be still be sleeping in her daddy-turned-big girl bed with pink and purple ballerina's all over it, while little man will eventually sleep in his crib across the room with whatever bedding we have laying around from the first time. I value my money and respect that my children understand that having a coordinated bedroom simply isn't a priority in our lives. The fact that they're in a safe room which they can call their own and have fun making memories together is all they need. The money that we do or don't spend on coordination simply won't matter to them, and now, to me.