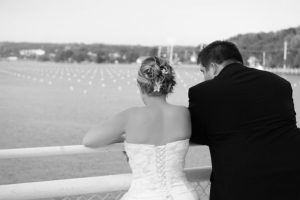 Today is our fifth wedding anniversary. I have no idea where five years went but it's gone. It's been quite a journey from newlyweds to homeowners to now wrangling our toddler to sleep in her own bed and explaining to her why she can't hold the moon tonight.
We've always been very practical people. It was quickly outlined in our first year of dating. For my 18th birthday my (then boyfriend) bought me a gold chain bracelet. Though it was beautiful, I didn't know if, when, or how to tell him he should have saved his money or if he insisted, bought something a little more practical. I was not then, nor am I now, a jewelry person. It took a little courage but I finally found the courage to tell my sweet and sensitive boyfriend that though I appreciate the thought, he really didn't need to waste his money on me, especially lavish gold chains. I was nervous he'd be insulted but instead it was sheer relief. For a 17 year old boy I think when we formally announced our relationship he expected money to fly out of his pocket, I assured him it wouldn't.
As the years and milestones went on so did our against-the-grain, frugal celebrations. Forget five-star Valentine's day celebrations, I think (the day) is stupid and we go out of our way to be as unromantic as possible (which has since turned into a bit of an unexpected tradition) of getting the grossest cheapest fast food (think McD's) to eat at home, in PJ's. Our first Christmas in our home we decided to forgo gifts and buy something for our new home instead. One of my most favorite gifts ever was my dishwasher. You get the point.
Some may call us cheap but we're not doing these things for extreme financial reasons. We're just uber practical people who would rather spend money on things other than $6.49 anniversary cards that are pretty but will end up in a drawer or garbage next week. Society can sometimes make us feel bad for the choices we make, like we're bad people for not dropping a bunch of cash on a lavish night out celebrating but we've resisted the urge to spend money to please other (non-important) people's standards thus far.
We are who we are and that's why I love him. Not to say he doesn't surprise me with the occasional special treat like flowers or cookie delivery to work its infrequent and usually accompanies something I really need, like new laundry basket.
The fifth wedding anniversary "gift" is wood. Though an engraved cutting board, beautiful jewelry box or custom coasters would be great gifts for someone, I think we'll take the bundle of wood in our back yard and burn it