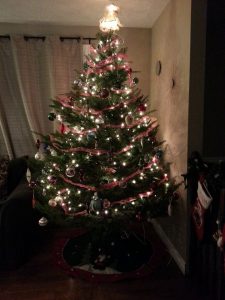 According to last year's statistics, Canadians planned on spending approximately $1,800 on Christmas. This stat sort of blew my mind. I knew we were frugal but truthfully I didn't think we were that far off the national average.
Especially now that we have a kid, Christmas is way more about her than it is us, in terms of gifts and celebration. Last year I actually convinced my husband to not get gifts for each other and instead go on a kid-free date. While we both had fun, my husband made it quite clear that he did not enjoy not getting me, as his wife, a gift. I truthfully didn't mind, but he really loves to spend time buying "his girls" presents, so I have re-instated a strict shopping budget for us to have fun with.
Aside from our daughter we only have a few other small gifts to buy for a few other family members, as well, a (real) Christmas tree and money for our annual Christmas party. All gifts, party, baking and booze included will be around $650. About 1/3 the average Canadian.
To me Christmas is not worth spending money on. I love Christmas. The smells, the traditions, the food, the friends and family, the gatherings. To me gifts are the absolute smallest part of the season. Even growing up, while I loved Santa and the anticipation of the day with my family it was never my favorite part. My favorite day has always been Christmas eve, going to church and spending the whole day and night together. My hope is that as my daughter gets older she's able to feel the same way. Keep it close to her heart what's really important to our family.
I am by no means suggesting if you do spend a lot of money it's a bad thing I'm just curious to know what you plan on spending for your budget? Obviously the larger the family you have, the more you may spend, and generally you can get away with spending less on younger children (it will be a few years before letters to Santa in our house include extravagant gift requests) but I love the idea of a much lower-key Christmas gift exchange.
I love the idea of buying gifts for my daughter and either doing a large family outing in lieu of gifts or doing a secret-santa style gift exchange with only one other person, setting a modest budget. I don't think it will happen though, I've married into a very generous family who, though don't focus on it as being the main importance of the day, loves to exchange gifts with each other

Has your budget changed a lot over the years? Can you believe Christmas is in ONE MONTH?!