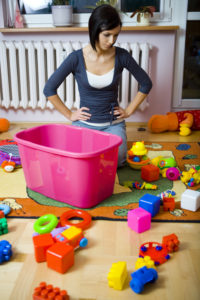 One thing I quickly learned with having my daughter four years ago was how much stuff kids acquire. Some of it is actually quite useful in their own way but let me tell you, there is so much you simply don't need (some of this you don't realize until after first kid). It didn't take us long to become very vocal with some gift-giving guidelines in attempt to control the accumulation, some of which were listened to, but some clearly ignored. I understand giving to a child is out of the goodness of the gift-givers heart but it can be so painfully unnecessary (like the new Barbie just because it's Tuesday and the sun is shining).
Gift Giving Rules for our Kids
When we realized (very early on) how much people liked to give to our daughter, in attempt to reign in the stuff, we vocalised that should the person feel so inclined to buy something for her (especially while she was so young she didn't even realize a gift was being given), that they may consider giving us the money instead (even for that $5 toy she probably doesn't need). We would put the money into her post-secondary education savings (in our case, an RESP). I'd much rather have $5 invested at three years old for another 15 years to be used for her future, than a toy she might play with for a few days, max.
Books are always welcome. I have no problem with having a house full of books for my children and will always find space for them, if you can't come up with a gift idea and don't want to give cash, get a good book. Books are probably the only item that doesn't drive me crazy when it's laying around somewhere.
Consider buying or contributing to something she needs. Clothes come to mind. Kids grow very fast and even with my frugal shopping for her wardrobe, chances are we'll always need clothes (or coats, or shoes). Even if it's a snowsuit that might not fit her for a whole year, it's a gift much appreciated come the time. She also partakes in both dance and soccer both if which have their own gear and would benefit from either financial contribution for dues or buying new gear (again- growth is an issue and we won't get more than one season out of most items).
The Over and Above
Obviously these aren't the only things that are given to her and I don't want to come across as being a scrooge of a mother but my GOD there's a lot of stuff. Now that we know baby 2.0 is a boy we're starting to purge some of her stuff out of the house.
I'm a big proponent of donating to those in need so we have given a huge portion of her gently used clothes to various charities. These aren't the kinds of items I want to benefit from financially, I'd rather give to someone who truly needs it but the items that we can sell for a small profit, we will. Most of it are baby items of hers (very girly baby toys or things like past Halloween costumes) and some of it is my maternity clothes (pregnancies in opposite seasons). We've only sold a few items so far at about $10 each but we still have quite a bit of stuff to go through and post as well.
Most of the stuff we're selling are items we bought so I don't feel guilty about selling but there will be items that were given to her by others. Obviously people don't expect us to hang on to everything given to her, but especially if someone else paid for it, the money from all the item sales will go back to the kids. As tempting as it is to sell this stuff off for a small profit and keep it to do as we please (mommy and daddy want a date night…or pay down debt…), the money will be going right back to them.
Maybe the money will be used to help offset her ballet tuition in the new year, or some clothes for the impending little man, either way the money will only be used for them in some way for some need and this way I feel everyone benefits.
What do you do with your kids outgrown/out used stuff?