This post is a part of the Get Paid to Write for Blogs Course Launch! Get Paid to Write for Blogs is a brand new course created by Cat Alford of Budget Blonde. Cat makes a full-time income from writing for blogs, and this course will teach you how to do the same!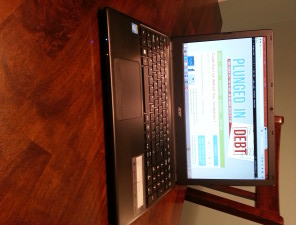 I've loved blogs since before I knew what a "blog" was. It was actually my husband, Mike, who introduced them to me. He decided to start a hockey related blog in the early 2000's and I have many vivid memories of him attempting to explain to me what he was doing on the internet. My love affair with blogs didn't start until 2008, the year we were engaged.
It wasn't the wedding that had me excitedly searching, it was the prospect of buying a home. Blogs consumed my life in planning our future home. I even started my own blog when we did, in fact, buy our first home in 2010. Though I loved reading blogs, I discovered that I didn't get much satisfaction out of blogging myself until I started this one in 2012.
I was home all day on maternity leave, Mike and I were finally getting real about our financial situation (a baby has a way of forcing that sort of thing on you), and I was invigorated with these changes. I wanted to talk about the comparison of diaper pricing, coupon cutting, debt slaying and future plans with anyone who would listen. I LOVED talking about money. I also loved learning about personal finance. Between a combination of boredom (newborns sleep, a lot) and Mike's honest frustration of hearing me talk about grocery sales every day, I decided to put my passion back into a blog as a way to release my energy, this, before I knew that personal finance blogging was a niche.
I didn't read a single personal finance blog (that's a lie, I knew about Gail Vaz-Oxlade's site), until after I started this one. I was already on Twitter and from their "recommended" following I came across what sounded like another site along the same lines as mine (it was See Debt Run) and thought "Holy crap, more people who like to talk about money and debt as much as I do?!…" Little did I know, I had accidentally fallen into a massive blogging niche which has quite literally changed my life.
I knew people made money online (hello, I was obsessed with YHL) but I didn't have a clue how. I really wanted to find another income stream to help my family while I was on maternity leave and more specifically, to help us pay our debt off. The first thing I noticed about the PF niche was how altruistic it was. Everyone was (is) so involved in helping everyone, it's like a little family. I would ask questions, a lot of them, to anyone who would answer about how to make money. Everyone was very helpful and they all suggested starting with freelance writing.
There have been many people who have helped me succeed in earning money online, to which I am so, beyond, grateful for. I can honestly say, when it comes for freelance writing, Cat from Budget Blonde was is one of the key people in helping me pursue my gigs. I got my first gig December of 2012 and haven't looked back.
I have been following Cat since the beginning, I mean way before she was the infamous Cat from Budget Blonde who gets published on little sites like Huffington Post. I was reading her blog back in her mostly DIY, newlywed days, but to be honest, had forgotten about her until I saw her comment on one of the other sites I was reading in 2012 and made the connection between "old DIY Cat" and the now "infamous PF freelancing Cat" we all know her as today. She's amazing.
One of the first financial moves we made when we decided to get real about getting our finances in order was to consolidate a bunch of our "random debt" (I may have put some tuition on credit cards…), the total of this debt was just shy of $25,000. In December of 2012 we made our first payment towards that loan, this loan in currently sitting at $5,000 and will be paid off in October, 18 months before it's "payoff date" mostly thanks to my freelance earnings. I started this blog with about $110,000 worth of non-mortgage debt, thanks to hard work and being able to make money online, our debt is sitting around $65,000 today with a goal to be eliminated in about 28 more months.
If you're trying to reach a financial goal, or if you're simply looking for an alternative income stream, I can't recommend freelance writing enough. I can easily do it after my daughter is in bed or on weekends when I have a little more free time. As long as I have access to the internet it is something I can do anywhere in the world and you can too!
Get Paid to Write For Blogs is a comprehensive online course that teaches you everything you need to know about getting hired to write for blogs. With 29 videos within 8 modules, this course covers every single step to start a successful and lucrative writing career online. Use MY LINK to get 15% off your course!