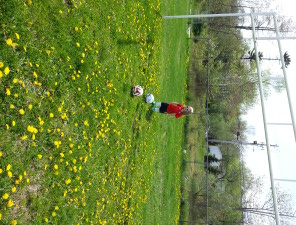 It goes without saying that having a child will change your budget, maybe drastically, maybe not. Though there is some way to predict how things will change, until it happens and you know exactly what you're dealing with, you don't really know. Some changes in our budget genuinely surprised me, others not so much. Though every family will have a varying experience, here is mine.
Food Spending: Decrease
How did we go from a family of two to a family of three and spend less? We started planning a heck of a lot better. Before kiddo was born we weren't the best when it came to grocery shopping and proper planning but being forced into it while on mat leave changed that. It's a habit we still stick with pretty well and so glad. I realize a time will come when this will increase but for now, toddler sized portions are our old leftovers that would usually end up going bad in the fridge. With eating out, a lot of the time she and I will share a meal which works out well too.
Entertainment: Big Decrease
We have a 3.5 year old. That is now our entertainment, and time. Though the category overall is decreased there are a few increases within in it like cable and Netflix. Both of which I consider an entertainment category we have increased since having a kid. Where we used to spend more time out (think watching a big game at a local pub for a few hours), we now stay home at watch at home, usually while she's asleep but have ordered a sports add-on package to ensure we get the games we want- still cheaper than a single night out involving food, transportation and pitchers of beer!
Extra Curricular Activities: Increase
We have an extra person in the house who is developing her own interests which cost money. My hobbies are pretty cheap to free (/I have a three year old so little to no time to do much of anything) and Mike plays soccer year-round. He's always done this so no real change there. Maria played soccer this summer and will dance this winter/spring. A brand new cost in our budget which I'm happy to pay. My lack of hobbies more than make up for it.
Travel: (soon-to-be) Increase
No real change for the first, what will be four years, of her life. We managed with one car and it was fine(ish). Happy we were able to survive so long with one car cost but as I have said in the past this is coming to an end. Summer of 2016 we will, if all goes according to plan, buy a second car. This means: cost of new-to-us car, insurance, gas, registration fees and second car seat. My sister-in-law was gallivanting around Europe for two weeks this month and lent us her car. Having two cars was glorious. It was literally life changing and so much less stress in our day-to-day life. This is an increase I will happily take on.
Miscellaneous "Stuff": Increase
This is something we've honestly never tracked- the packs of gum, coffee, change for meters. Small stuff that adds up. This has indefinitely increased. We go to the local Dollar Store and she'll usually end up with a small "treat". Though I have no way of tracking this I know we'd be spending less overall without her.
Baby Stuff: Increase
Needless to say, before she was born we didn't buy any baby stuff. I received enough diapers at my shower to last a full 10 months (I think I bought one newborn pack) and we spent another 14 months worth of diapers (fully potty trained at 2, didn't bother with stuff like pull-ups). Diapers were our biggest "baby" expense. We received a lot in gifts (so grateful) and being frugal I was able to find great savings in things like clothes. I think we did well with sticking to necessities.
Holiday Spending: Increase
Though our Christmas budget didn't change much (until this year), we spent money on other holidays that we hadn't really before, like Easter. While we spent basically nothing on the holiday before, now we play the role of the Easter Bunny, which is fun. Same for basically every "holiday" out there, though it might not be much we spend something.
Kids are an expense but they don't have to be as expensive as some "professionals" will have you believe. Like anything, there is often savings to be found with a little effort. You'll also be surprised how few things you need. Having a kid also really aligned my priorities in all aspects, including money and some things that used to be important no longer are.
How did kids change your budget?